BASKETBALL IS 80% MENTAL AND 20% PHYSICAL
Value $165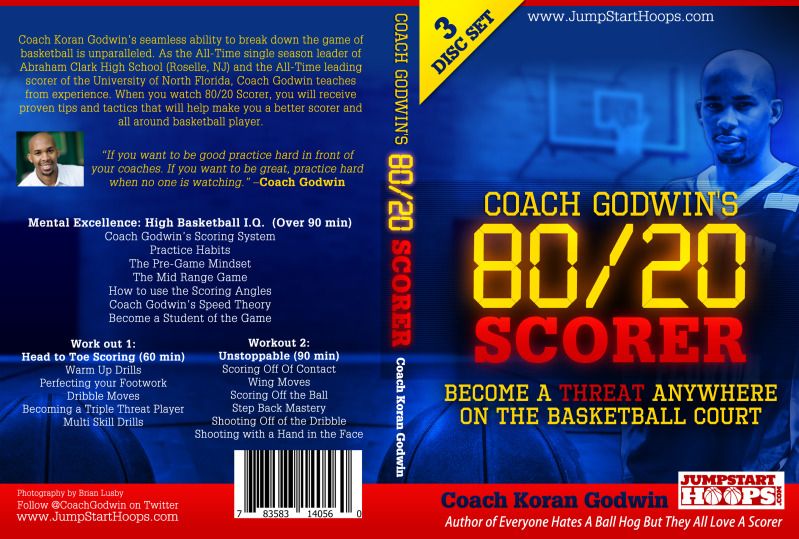 There are
156,096 High School Seniors

but only

1,844 scholarships.
There are
16,571 NCAA players

but only

450 NBA spots

available.

Those that make the cut understand that the game of basketball is 80% Mental and 20% Physical. This DVD set is designed to increase your basketball I.Q. with over 4 hours of drills and scoring tactics.

"This is the information that allowed me to become a Hall of Fame basketball player."

-Coach Koran Godwin
3 Disc DVD $39.99
***We Ship International***
3 Disc Download
$34.99
"If you want to be Good practice hard in front of your coaches. If you want to be Great practice hard when no one is watching."
-Coach Koran Godwin
Coach Koran Godwin, University of North Florida All-Time Leading Scorer
UNF Hall of Fame Class of 2012
WHAT DO I GET?
80/20 Scorer 3 disc set + Free Bonus eBook
Everyone Hates A Ball Hog But They All Love A Scorer
The Book everyone has been talking about!
"Coach Godwin gives key insight into what it takes to fundamentally score points day in and day out. This book is the student-athlete manual for becoming a great scorer." Josh Pastner - Head Coach University of Memphis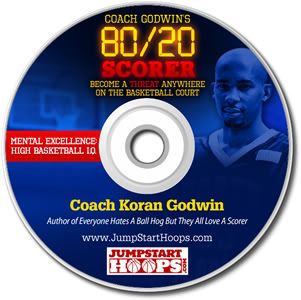 Mental Excellence: High Basketball I.Q. (90 min)
This Dvd dives into the mental aspects of basketball. Coach Godwin explains what you should be doing and thinking before, during, and after the game.
Topics Range from
Playing the game in your head, Practice habits, Priorities, Attitude, Visualizing in the locker room, importance of mid range game, Raising your standards, Work Ethic, Off-Season strategy, weight room, Getting out of slumps and tons of information that will get you prepared to excel every game.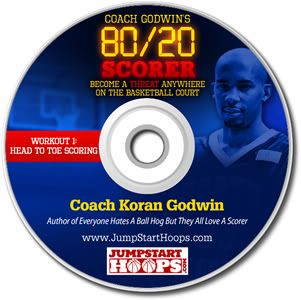 Workout 1: Head to Toe Scoring (60 min)
Coach Godwin takes you to the floor starting with dynamic warm up drills. Then we focus on footwork, showing you how to perform the complex moves displayed later in this DVD series. This DVD also contains advanced two ball and combination drills not viewed in the Free DVD.
Workout 2: Unstoppable (90 min)
In this DVD, Coach Godwin details a variety of ways to score the basketball. Drill and skill work categories include: scoring off of contact, Off of the dribble, scoring from the wing, and with a hand in the face. This comprehensive video ties together everything you learned from the first 3 DVDs.
WHAT PEOPLE ARE SAYING ABOUT THE 80/20 SCORER DVD SET

CLICK HERE
TO READ DRIVEBASELINE.COM 80/20 DVD REVIEW
CLICK HERE TO READ LAYUPS.COM 80/20 DVD REVIEW
-------------------------------------------------
80/20 Scorer DVD Set + Bonus eBook
Value

$165
Click Buy Button for 3 disc DVD set $39.99
***We ship International***
Instant (Download) Price $34.99